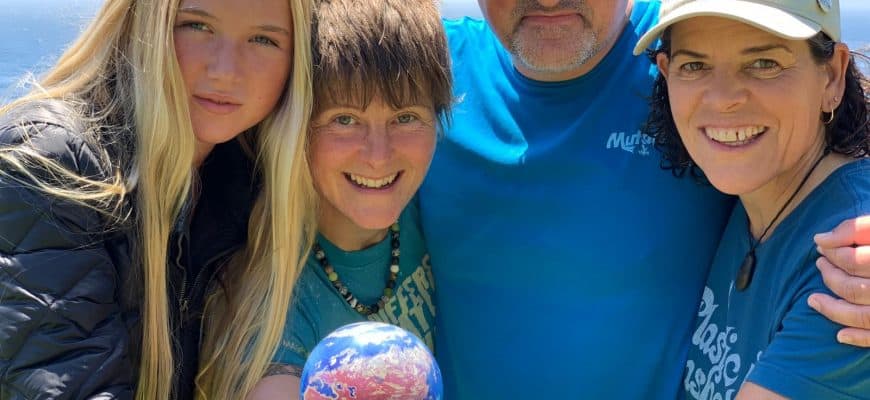 6th Annual Blue Mind Award 2019
20th August, 2019
Before you read this blog if you have yet to join our Blue Mind movement or read the book you can find out about, support and contribute towards Wallace J Nichols and our wider Blue Mind Team's work to acknowledge and promote our connection to water right HERE.
Following what was an amazing surprise at the start of summer I felt it was high time I wrote a blog to attempt to convey what it means to be recipients of the Blue Mind Award…
J's blog about it is HERE
I can only speak from my own perspective (not for Julian who is a co-recipient).  As an mBIT Trainer I have a sneaking suspicion, as with all matters of the heart, that words may not do justice to the emotion felt in receiving this award….
So I will tell the story first to paint a picture… and then back track to give some context.
It is Friday evening and I am attending the 9th Blue Mind Summit… sitting at the back of the room – a stunning yurt on the edge of a cliff top at Esalen with Julian (who arrived yesterday and is super-jetlagged but stoked to have spent the day watching Pelicans ).  We are keen to continue the Blue Mind conversation with new and old friends.  A good friend Jackie Nunez is next to us – a power house, epic communicator and founder / orchestrator of the Last Plastic Straw movement.
It is time for the Blue Mind Award to be presented – something I have witnessed before – most recently back in October 2018 in Miami at Blue Mind 8.
This is an award given to projects that champion our connection with water – some have focused on protecting our marine environment, others have promoted and enabled individuals and communities to gain access to… and develop deeper relationships with water – as "medicine".
Previous recipients are individuals, organisations and collectives that I have an immense amount of respect for… and so I know this is an honour not given lightly….
Who previously received this award?
Check out the previous award recipients, their work truly is inspiring and I urge you to explore each of their stories…
So back to the yurt…  For me the previous week has been spent out in Monterey training mBIT Coaches and exploring all things relating to personal alignment, authenticity and leaning into your calling. In the non-work hours, I have swam in the Pacific with a friend, met up with "The Harbour Seals of Pacific Grove" group of fellow volunteer marine mammal custodians and even seen a sea-lion pup moments after it was born…  It is fair to say it has been a great week already.
As we move towards the moment that the Blue Mind Award will be passed to the 6th recipient, a letter is read out by Julie Starke in memory of Harvey Welsh a beautiful soul and the voice, heart and guts behind the Carbondale Splash Park project.  News of Harvey's passing not long before ripples through those of us who have been lucky enough to share time with him and emotions are running deep.
To lift our sadness we hear from Jim Ritterhoff eloquently relaying the latest work of Force Blue (the current holders of the award) and J decides to pass the Blue Mind award around the room so that everyone can connect with one another…
It is like a giant Blue Marble, our Blue Planet lovingly created in glass.  Jackie and I are (in her words recounting the story later) "muttering away like the peanut gallery at the back of the room"
Have you ever touched it…
No I never got to touch it yet…
I've seen it but never got near it…
We gotta make sure we at least get to hold it don't ya think?…
We are half listening and if I am perfectly honest I am partly imagining she might make an awesome next winner – let's face it her efforts have created waves of action and gateway conversations for further progress to protect our planet. I am also racking my mind for who else might have a project even closely worthy of such an accolade.… it is about this exact moment that I tune into J's voice and hear the words "UK"…
Huh? Did he say UK? It cant' be us that have won it? Surely not!
I look at a highly emotional Julian who has clearly already clocked that this award is coming our way – having been listening far more intently than I. Realization dawns as J asks us to come and collect the award – we are overwhelmed and deeply humbled.
I see Julie Starke giggling, grinning from ear to ear and mouthing the word "suuuurpriiise!  J too is smiling as they have managed to completely wipeout us both (in a good way) with this "out of the blue" announcement….
It is super-rare for me to not have plenty to say – but in this moment with my heart is beating out of my chest… I am quite literally "speechless".  What follows as a hilariously awkward award acceptance of sorts – not much more than a pretty incoherent "ermm thank you (?!)" … and in no way representative of how thrilled we were.
It makes me giggle thinking back on it…  Only now, having fully heard how and why Julie and J made their choice am I finally comfortable that their decision-making was truly considered.  I am far more content in really acknowledging and truly accepting this deep honour… and (importantly) I promise to be 100% more articulate when I / we help pass it on to the next recipient.
So what does this award really mean?
I have never been hugely motivated by awards, they are great for marketing… and of course celebrating success is never to be devalued… Yet they are often self-entered, peer-nominated, voted or pitched for primarily due to their PR value. There is a phrase in yoga that says… "honour your teachers"… so of course I enjoy it when my clients acknowledge the value of their coaching or take time to say thank you…  but I have a hunch that might be more about me valuing good manners than seeking status.
Naturally I am thrilled when my clients win them – it does give me an inner sense of shared pride when they gain recognition in their field.  So why were we awarded this and why is it so very treasured?
There is a really big difference I feel between being an award recipient versus and award winner.  The former is 100% heart led… it suggests that somebody has noted something of worth in what you are doing – they are saying I see and value you and the difference you are making or I acknowledge your cause…  and to receive the award from people you hold in such high regard is humbling to say the least.  The latter to me infers you beat somebody else to the title where comparison and benchmarks were used.
So I guess it is impossible to "win" a Blue Mind Award… and I kind of like that because if you look at the previous recipients of the Blue Mind Award they are so diverse that to compare one to another is like saying surfing is better than free-diving but floating beats them both… perhaps under estimating their subjective nuances.  As water-people we are all about the analogue and there really is no win / lose… Blue Mind is all about connection… everything is an ecosystem and we all do the best we can to play our part.
Whilst a part of this Blue Mind Award reflects my professional blue health coaching work, it is a shared award for a lifestyle that reflects ocean advocacy – "Living Blue".  There is "intentionality" to the way we live and do what we can to promote ocean health and champion the Blue Mind movement.
Taking action to safeguard coastal spaces is not without effort and it requires conscious choices to invest time and energy and all manner of resources with highs and lows to navigate especially when it feels like progress ebbs and flows… and so encouragement and recognition from peers is beautifully uplifting and deeply appreciated.
We love all water and for us specifically the coastal landscape and marine wildlife hold our hearts compelling us to take action.  J's work pivots on the phrase… "people protect what they love… but how can you love what you do not know", and it is an expression that resounds in our lives and work… We know and love our coastlines intimately and we work to encourage as many people as possible to connect with these spaces.  The more we know the coast the more we love it and the more we love it the deeper we seem to dive into protecting it – our current ocean advocacy activity and projects are HERE… and we know there will be more, all of which do not only involve two of us to make happen – so this Blue Mind award really is for all those who make wiser more compassionate choices as a result of coastal connection.
Our lives and my work are essentially a practical model that incorporates Blue Mind in action.  Blue Health Coaching is after all about enabling people to bring their full selves to all that they do, to spend their time doing meaningful activity that they enjoy, to live wisely from their heart, to look beyond money as their primary success measure and to connect with and protect their environment and one another.  To receive this award for living the life that we live is a great validation and an endorsement that applying Blue Mind philosophy and blue health coaching principles works!  If I am coaching people to show up fully and act with intention, I would very much hope that is how I am living my life.
I guess I would summarise saying we love our lives and I know the coaching work I do and the ocean health projects makes a difference… we are lucky to have the opportunity to show up from a heart space and we are fully committed to making Blue Mind common knowledge. I've coached as a "coastal coach" at the beach 2009 – a few years before the term Blue Mind evolved and the closest you would get to Blue Health was within the field of Environmental Psychology.  We have championed Blue Mind and J's work since 2014… being a spokesperson for various documentaries, running workshops at festivals, giving away books and blue marbles and being an ambassadors for 100 days of blue… it is a movement / collective / groundswell so worthy of our attention and energy and we will happily to continue to be advocates and patrons for this cause. We appreciate this award and have deep gratitude to all who connect with and promote the work of the Blue Mind movement.  Thank you J and Julie for your continued friendship and wisdom – you truly are role models x