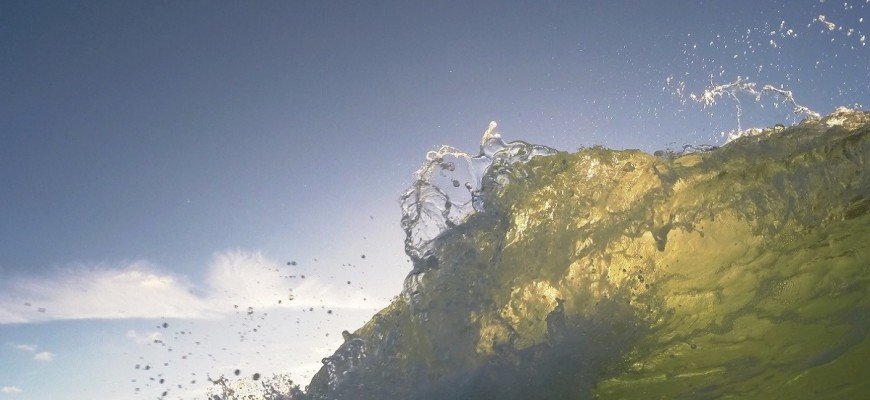 Blue Health
Blue Health is a term that spans a range of research into the benefits of being in, near, on and under water… Whether that is:
Natural water: lakes rivers streams the ocean – experiencing a range of sporting or leisure pursuits
Structured contexts: such as hydrotherapy, floatation tanks, aquariums etc
Virtual reality: using digital simulations of the visual and auditory elements of water to evoke feelings or changes in physiology (an area I have personally researched in collaboration with Plymouth University)
Art: The inclusion of water in poetry, metaphor, music, photography, painting and performance art
Spirituality: Mindfulness practices encompassing visualisations incorporating the creation of mental models and an embodied sense of H2O
Even the design of cities and the impact of water upon real estate prices has not been overlooked when it comes to studying the water effect
The use of water as medicine and the scientific evidence that our emotional connection with water really does impact measurably upon our wellbeing is becoming accepted by the mainstream and it is a field I have been delighted to champion, since beginning coastal coaching practice in 2009…
Think about water as an element for a moment… It is continually transitional, whether watching waves from a shoreline or waiting to catch one, perhaps you might be observing a ripple across a lake or listening to a river flowing freely…  You need to be present and "in the moment".  The water doesn't wait for you to be distracted or half conscious, it moves with or without you and the "nowness" of time spent near, in, on or under water is in all senses of the word "immersive".  The awakening to our senses offered through time with water (be it with the intention of calming or uplifting)… connects us with ourselves in a way that is refreshing, restorative and distinctly analogue.
My intuitive practice became far more science-led when meeting a kindred spirit and now deeply valued compadre and mentor Wallace J Nichols back in 2014. I was fascinated to learn that much of what we water lovers intuitively know to be true, could now be proven scientifically… Great news for the doubters!
J has curated a cross-disciplinary social experiment spanning nearly a decade in the form of Blue Mind Summits and Experiences, changing conversations within academic circles to ensure the emotional value of blue space is not excluded… and leading to the book Blue Mind.
Blue Mind has evolved into a movement with a strong following and I am honoured to be a part of the advocacy team that proactively promote Vitamin Blue. Whilst there are more and more scientists beginning to dive beneath the surface of blue health, Blue Mind can be evidenced though intuitive and academic sources and awareness of the Blue Mind phenomenon transcends the boundaries of individual fields…
I guess much like water it doesn't like to be contained… Blue Mind encompasses and invites formal and informal inquiry into the emotional, social, physical, psychological, cognitive and spiritual benefits we each experience when we build our relationship with water.  And the aims are pretty simple too…
1 We have a free health resource let's work with it to foster collective wellbeing and create healthy communities.
2 People protect what they love – as we get to know our water sources our sense of guardianship grows and on a planet that is bombarded with human created pollutants, taking care of our ocean is becoming higher and higher priority.
The term neuro-conservation sums up the blend of environmental psychology, neuroscience, conservation, behavioural modelling, social sciences and arts… But Blue Mind is definitely a felt sense.
Blue Mind research insights permeate all I do, and a proportion of profits of US Going Coastal Courses go directly to support the continuation of this work with various other support initiatives such as social media led campaigns, championing #100DaysofBlue and bringing Blue Marbles to the UK.  Every action we can each take to promote this free health resource matters.
I am a Blue Health Practitioner… What does this mean?  Well essentially Water is fundamental to everything I do… it is not an after thought.
My professional life is water-centric, coastal coaching, using the marine environment for facilitation, creating a littoral zone inspired behavioural change toolkit, writing applied blue health articles and a book on it's way. I speak at conferences on the topic of Beach Wisdom and contribute to ocean conservation films and leadership programmes.
My social responsibility includes a highly active role as a Representative for Surfers Against Sewage, heading up local campaigns and activity to reduce ocean plastics and being a Marine Mammal Medic with British Divers Marine Life Rescue.  I offer applied blue health talks in addition to hosting blue health zones within wellness areas at festivals and attending speakers panels advocating the benefits of healthy wild water.
My recreation time is spent free-diving with seals, sea swimming and generally playing in the surf.
Spiritually I am connected to the coast, it offers me a sense of place, an awareness of a global community. Water is all that I am and all that I do. It is fair to say I Live Blue…  Which co-incidentally is the title of my friend Wallace J Nichols' next book.
If you would like to find out more about how as a Blue Health Practitioner I can help you connect more deeply with yourself and your environment then feel free to take a look at the "About / Who am I" link, the "Ethos" link and then get in touch.