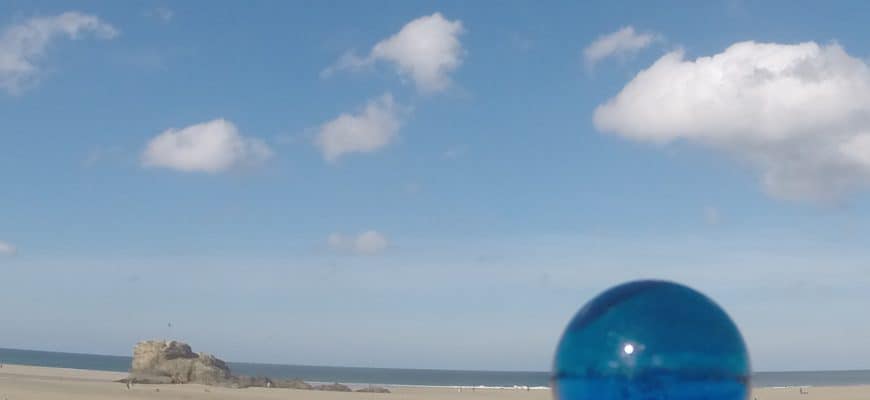 Blue Marbles UK
I am excited to be collaborating with SlowCoast to bring you Blue Marbles.  As part of Team Blue Mind I have been avidly sharing the work of Wallace J Nichols and the rest of our tribe since our paths converged in early 2014… When the book Blue Mind was launched.
Why Blue Marbles?
How did we come to selling marbles?  As a coaching consultancy it is a little random to find yourself also selling blue marbles so here is how this (not for profit) side-project came about…  As a Blue Health Coach / Practitioner I love what the Blue Marbles project symbolises – there is a deeply analogue symbolism that connects us to one another when we pass a Blue Marble hand to hand eye to eye.  I found lots of my contacts got inspired by it too and they wanted to begin sharing Blue Marbles and this message of connection and shared guardianship for one another and the blue planet.
A Carbon Footprint Dilemma
Now here are a couple of snags… Blue Marbles are heavy… and the US is far.  These two don't make a great combination when it comes to shipping and there is a certain irony that a pro-environment initiative could lead to excessive carbon consumption.  So… we got creative and you will not believe how hard it is to track down ethically trading medium blue marble suppliers!  Long and short we solved it…. But hang on a minute the rules of the blue marble project are that you can buy marbles from anywhere I hear you cry… Yes you can… of course… and J never intended to make this into a commercial exercise… in fact it still isn't…
Buying Blue Marbles
If you buy your Blue Marbles here – 50% of profit will go back to ocean conservation causes including the Blue Mind Fund.  This also means that Team Blue Mind can continue to freely give Blue Marbles away for education projects – encouraging common knowledge that Water is Medicine.  Win win… Right?
If you are in the UK or Europe you can purchase Blue Marbles and Blue Marbles Gifts from us through our Ocean Inspired store link, or for bulk orders (perhaps you have an event you would like to bring Blue Marbles to within the UK) please Contact Us and we will get Blue Marbles to you for your cause.
Whilst you are at it – remember to buy a copy of Blue Mind.  We cannot wait for book two (Live Blue) – if you want to support J in writing and publishing it here is his Patreon crowdfunder link.
Of course if you are looking for other Blue Mind merchandise the awesome Libby can help you… Contact Slowcoast direct.