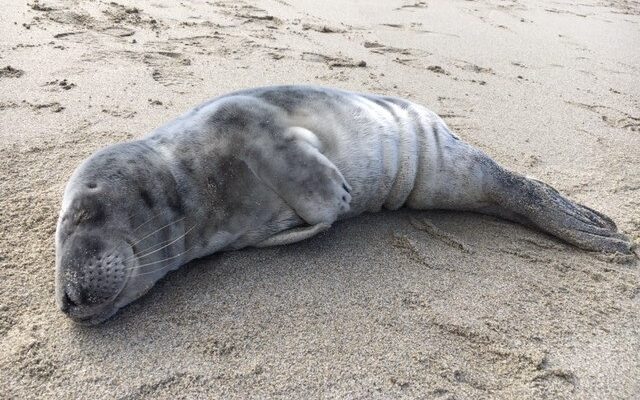 2021 – Ocean Advocacy Review
6th January, 2022
After 2020's lockdowns, it was great during 2021 to primarily be back out on the coast when it came to my Coaching practice.  Zoom coaching of course came in very handy during some ocean advocacy projects which saw me either away from the mainland or landlocked in a muddy field (building site) for periods of time (more of that to come).
Essentially the world of Coaching is buoyant with more and more people valuing taking time out and working with professionals to ensure their planning and decision making is intentional and well considered. I also work with some amazing Coaches as their Coach Supervisor and continued to train and mentor more Coaches many of whom champion Ocean Advocacy.
Those who are part of this community know how important Ocean Advocacy is to me. I don't see the activity I take to protect the ocean as separate and distinct from my "day job" as a Coach and Coach Trainer.
I designed the Blue Health Training Program to train and develop Coaches who put environment (particularly healthy wild water and wildlife) at the heart of decision making.
My 2021 review celebrates Ocean Advocacy and during 2021 it is fair to say BDMLR were again given a decent chunk of time as one of my favourite causes.  All activities were an absolute honour to participate in.
Far from blowing our own trumpet the following review is a way of measuring social and environmental impact, part of any reflection activity is to think – what have we learned and imagine what more can be done.
None of our work supporting Ocean Health through Ocean Advocacy is done in isolation and many of you reading this regularly donate to our fundraisers and help in other ways… so I wanted to send you a big thank you for your support during 2021… now let's see what 2022 brings!!!
---
Caring For Seals At Home
  
Whilst finding a site and going through the process of design and gaining planning permissions for a brand new hospital, Jules and I had started hosting the BDMLR Cornwall Seal Hospital at our home in early Sept 2020…

Covid meant our normal BDMLR temporary hospital overflow was not available and the larger rehab centres were struggling with staffing bubbles.
The season was absolutely relentless and went on until mid May 2021 (the longest ever), caring for 139 seal pups in total with a very small team of volunteers (a maximum of 6 pups stayed at our home at any one time.
The longest stay was 17 days and the average was 8 days – A pup called Des who arrived on my birthday in Nov, after our care and some further fattening up at the Cornish Seal Sanctuary was released on 1st Jan 2021 – (pictured) – I wonder where he is now?
The pup season ended sadly with the loss of Hattie a 4 year old seal who had been entangled for at least two of her years. She had become trapped in rocks and our medics rescued her and finally had chance to remove the monofilament net from her neck.
 She came to us to 29th April for care for but it was clear her inability to feed properly had stunted her growth and damaged her liver and on 7th May she was sadly put to sleep.  The solace we take is that her last days were stress free. Her short and challenged life was and is a reminder of why it is so important that we tackle plastic pollution and to wave  flag for Ocean Advocacy.
We started a huge campaign of fundraising which proved really successful and the kindness of donors was astounding.
---
A New Seal Hospital
January also saw us (BDMLR) gain planning permission for the new Cornwall Seal Hospital following a LOT of stakeholder conversations.
I project managed the site acquisition, design and build of this facility pro bono on behalf of BDMLR around my Coaching (and at times remotely around another BDMLR adventure – which follows)
It was a real test of will and determination, breaking ground on 9th May and completing the build within only 4 months to the disbelief of many.
Material prices soared so I dusted off my negotiating skills to bring the project in on budget. I also got stuck in labouring for several weeks (oh the building skills I have learned)… Some of my coaching clients were hugely generous too which helped A LOT – a million thank yous.
We had an amazing builder Rich Shilton and groundwork pro Gary Lobb – without whom none of this could have been achieved – I am eternally grateful to these guys.
So the hospital was officially opened by Alan Knight OBE on Sept 11th and this pup season we have already been out
on lots of rescues and now have a purpose built facility we are hugely proud of and a flagship for the charity which can also act as a training hub.
We are back to working with a larger team of volunteer medics and in addition to training medic skills here, I hope to run some Ocean Empathy programs for volunteers.
---
"Wally the Walrus" Arrives
   
2021 saw the random arrival of an Arctic Walrus in UK waters. It was when he arrived on the Isles of Scilly that our paths crossed and my life became entwined with the fate of this dear brown fella.
He was causing trouble boarding boats and this was leading to an understandable degree of ill feeling towards him. With tension rising BDMLR were called in and I was lucky enough to be the person on the ground – a period of five weeks (27 days of which) where I stayed out on St Marys working (volunteering) together with the IOS Wildlife Trust to protect him.
A very kind man Ben Ellis even took me over there in this light aircraft free of charge – his contribution he said to protecting the walrus.
My role was to avoid harm coming to this globally protected animal and to encourage the community to work together to find solutions to protect themselves and their property.
I had lots of guidance – a key adviser being Sue Sayer of Cornwall Seal Research Group Trust who gained info from Alaskan experts.
I observed his behaviour and that of the general public who continually disturbed him even when he had been given his own resting place… (see photo) seeking to get close to such a magnificent animal without realising they were limiting his rest… the one thing he needed (apart from food) to get strong enough for the 1200 mile journey home.
I built him a pontoon … and then rebuilt it (the second time I was lucky to have some extra help, those bricks are heavy to move on your own) when he got too fat for the the first one. The pontoon was a huge success – meaning he (mostly) stoppeddamaging vessels.
My time on the island managing a difficult situation is as you might imagine an emotional story with lots of complexity – a unique experience I would not trade for the world. Thanks to Alison Davey a friend and fellow medic for joining me out there on two of the days to keep me sane and to Dan Jarvis for popping out to IOS, so I could get a weekend at home to recharge in the middle of this chaotic time
Our walrus left the island at the very end of July after a big storm and eventually moved on to Iceland (via Ireland)… and (we hope) after that he went home.  I am so proud to have played a role in protecting this amazing animal and grateful to have been given the opportunity.
---
BDMLR Community
  
It has been great to be able to get out with BDMLR sharing awareness for the charity.
I co-trained a couple of medic courses and it has been a joy to see the new medics out rescuing pups.
We ran an awareness event for BDMLR during the G7.
Our medics took turns monitoring marine wildlife over at St Ives during the G7 summit with round the clock watches to ensure that we were there to respond to disturbance with so much boat activity in the bay
We have had a few dolphin callouts this year too – some have been lucky to avoid stranding and some have been a little too late to help – but we know with all cetacean responses we do what we can to reduce suffering even when the outcome isn't a successful refloat
I have had opportunity to take part in more abseiling seal rescues, plus our normal large number of "in the dark" rescues and even had one seal rescue from a dry dock involving a crane – which was fun.
---
Fighting for the Ocean (Marine Plastics)
Our Ghostnetbusters activity continued with plenty of nets recovered and these will be recycled through our friends Odyssey Innovation.
So many seal pups were entangled last season and this season getting rope and net off the beach is close to my heart.
We believe we have removed approx 3 tonnes of ghostnet last year (possibly more).
We also carried out several Paddle for Plastic trips along rivers in our marine recycled kayak.  A new collaboration with RED Paddle will see us doing more of these next year – the RED project is detailed in my Coaching for 2022 newsletter which will hit your inbox shortly if you are signed up for my newsletter.
Chris and I did an event with the cubs – sharing various ideas to protect the marine environment.
We also created a new piece of art to replace the wave of plastic raising awareness in Perranporth. It is made from washed up pallet wood and we also encouraged the local children to make wooden signs for the dunes – asking people to keep the place clean.  I say "we" created it – I asked for some pinnipeds and Chris let me glue and screw a few bits and pieces together, paint seals and help with the placement… his is the artistic genius!
Jules and I were thrilled to be able to join Josh from Nurdle on a few adventures this year helping him to remove micro plastics from our wild water.  We are huge fans of his work and proud to volunteer as part of his crew. Check out his amazing newsletter HERE showing how much he has achieved in 2021 – it is pretty inspiring!
My SAS Rep activity continued hosting the Million Mile Flagship Beach Cleans for Perranporth and one for Holywell – although Jules ended up mostly leading that one as I had a callout to a dolphin (too many hats).
---
Gratitude
I spent MANY hours writing a lottery bid to support the BDMLR hospital build – which we did not get, so it wasn't a total year of success. For those familiar with bid writing you will know how much it stings when you get through to the final stages and get told a big fat NO.
That said we did however raise thousands of pounds through various fundraising and my own justgiving page remains open. Going Coastal contributes a proportion of course and coaching booking fees to BDMLR through this and I run various fundraisers through each year.
I was also deeply honoured to receive one of the PMs Points of Light Awards
… and Julian and I received an awesome award from the trustees of BDMLR together with other amazing medics.
---
In Summary
Another busy year for Blue Health in it's broadest sense. The reason I Coach and train Coaches with emphasis on environment is because I truly love this big blue planet and as I said at the top… this is a team effort so thank you for all you are all doing in your own way to help protect what we love.
AND… if you want to donate to help BDMLR Cornwall Seal Hospital with ongoing costs you can do as follows… (Thank you)
To donate £1, text SEAL to 70201
To donate £3, text SEAL to 70331
To donate £5, text SEAL to 70970
To donate £10, text SEAL to 70191