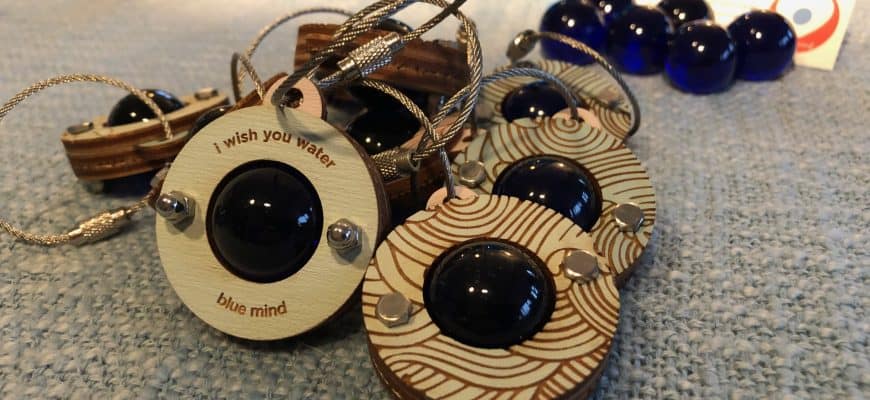 Blue Marble Locket
Made with Love
A lot of love, thought and care went in to producing these.  This beautiful gift is designed for you to carry your Blue Marble with you.  Once you and your Blue Marble have travelled, sharing time and space for a while, share the Blue Marble with a friend and then replace it with a new Blue Marble which can in turn be shared at a later date with another person you wish to show gratitude to.
Locally Designed
These items are locally designed, laser cut then handmade in Cornwall using sustainable sources. The bolts are sailing grade stainless steel – aiming to offer a mix of industrial and natural materials, making these items are beautifully tactile and giving them a nautical porthole-like visual appeal.
Profit from these items goes directly to marine conservation causes:

The outer rings carry two ocean inspired phrases on the outside and a unique design on the inside which incorporates wave crests and lines symbolic of land topography – edges and gradients.  If you are gifting this item, you can flip the outer discs so that your ocean message remains a secret until the recipient opens the casing.
The "Little Greene" paint colours were meticulously selected for their reminiscence of the coast, by individuals who spend a lot of time at the coast – it may be that you do not really pay attention to this level of detail – but it mattered to us.
We love these and hope they will bring you joy too.
Sharing with Others
You can purchase these individual items here in Perranporth.  Alternatively, please use the links below which include postage to UK and enable you to gift these to others. If you are outside the UK please use the contact link and we will quote for additional shipping.
£19.50 – 1 Blue Marble locket – 50% profit goes to our Blue Health Coach™ causes equally Blue Mind Fund , BDMLR , SAS