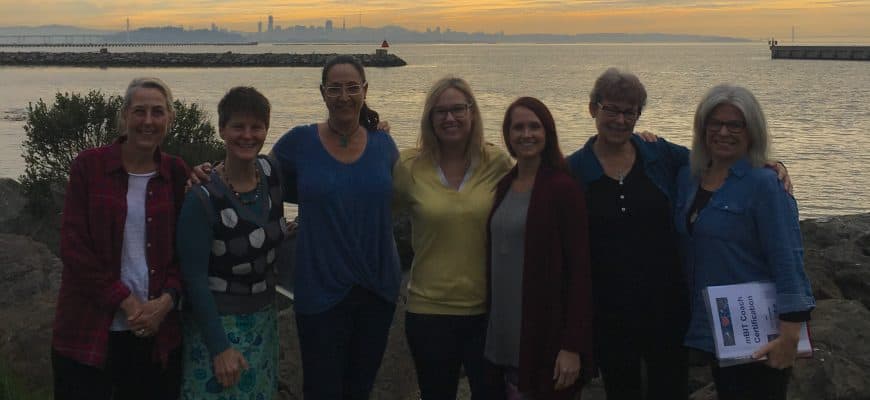 mBIT Training in the USA
Are you in the USA?
Are you interested in becoming an mBIT Coach?  I ran the FIRST EVER West Coast mBIT Certified Coach Course in Berkeley back in Feb 2017, leading the way for additional mBIT Training which followed in a variety of US locations hosted by fellow UK mBIT Trainers.  That said – mBIT is still pretty new in the USA and those training now are certainly "early adopters" of (and trailblazers for) this modality.
mBIT courses are open for all who have a role in assisting others to make "wise choices." To give you an idea of the diversity of Coaches, the first USA mBIT Coaches were from the fields of: Politics, HR, Judicial System, Corporate/Business, IT Consultancy and Health/Nutrition – so as you can see mBIT has broad relevance!
Acting with Intention – Location Matters
I really don't underestimate the impact of our learning environment upon our brains. To paint a picture of how I choose a training venue…  OCSC was chosen as the first US venue partly due to the qualities of the waterside location – secondly for the clear alignment of the OCSC ethos with the way that we, as mBIT Coaches and mBIT Leaders, facilitate Generative Wisdom…
Checking out the OCSC website, it conveyed passion for learning and compassion for the environment. The leadership team at OCSC "welcomed us aboard", describing themselves as "sailors on a mission of discovery".  Their mission stating:
"We love sailing, but OCSC isn't just about moving a boat across the water powered by wind and a knowledge of the sea. It's about discovery and exploration, freedom and responsibility. And taking the helm both literally and figuratively. People are drawn here for many reasons. For some, sailing is about personal growth and connection with nature. For others, it's about simpler things: meeting good people, sailing home with a fiery sunset over the stern or the wind and salt spray in your face. Many are drawn by what comes with comprehensive knowledge, deep experience and well-honed skillls — the confidence that you can skipper a sailboat in any conditions anywhere in the world…"
Excited by the clear alignment with mBIT methodology and neuro-conservation, this location was a "no brainer" or perhaps a "multiple brainer" and the team at OCSC loved discovering and hosting mBIT!
Perhaps you know of a venue with suitable ethical credentials and would like to host a Going Coastal Blue mBIT course? LET ME KNOW… and you could be hosting your own mBIT Coach Cert Course!
Embracing Neuro-Conservation
I am an ocean advocate and all my training is distinctly water inspired.  Acting as director of coaching for Blue Mind Works and to embrace my passion for the Blue Mind movement, I commit to donating 50% of net profit from all my USA mBIT programmes to support neuro-conservation (Blue Mind) initiatives.
I invited my good friend and author of the NYT Bestseller Blue Mind: Wallace J Nichols to join us at our Berkeley Course. During his session, J shared how his field of neuro-conservation lives and breathes the highest expressions of mBIT.  He explored his insights relating to heart, head and gut alignment to inspire the group during our Wisdom Project discussion. J is happy to join us again if not in person then certainly via Zoom.
As you might imagine… these are truly unique mBIT programmes with a pro-planet emphasis and I deeply hope you can join us at a future event.
Register your enquiry using the contact fields at the base of this web-page and let's arrange to Zoom Chat (if we have not previously done so) – the first step in booking your place on this programme.
I look forward to meeting you and introducing you to mBIT!
The Audio below offers some background to my mBIT journey as your Course Trainer and aims to clarify how and why this mBIT Training aligns with Blue Mind.  This audio was originally posted prior to our first course and I have left it published here as a personal intro… Duration Approx 10 min.