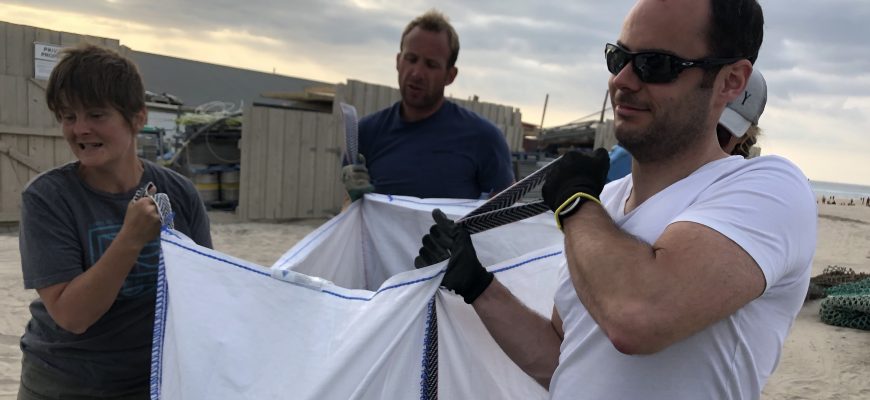 Ghostnetbusters ALDFG
I am co founder of GhostnetbustersALDFG a community volunteer group – We carry out recovery and the coordination of recovery of large scale ghost fishing net that has been abandoned lost or discarded.  How does it work?  An industrial scale large net is found on a beach or rocky cove and it gets called in to us.  We then co-ordinate teams across the South West to recover the net safely and retain it ready for the net to go to the Net Regeneration Project where it then is recycled.  We work closely with Rob Thomson from Odyssey Innovation and run paddle for plastic events with them too Odyssey Innovation make 100% marine plastic kayaks out of the recycled pellet from our ghost nets.
Our core founder-team of four (plus 2 dogs) personally recover net from the 60 mile coastal section between Trevone and Hayle and work with other teams to recover areas further afield.  We now have volunteer pods across the whole of Cornwall in 8 zones and these volunteers respond to our callout system when nets are reported.
It is heavy work but hugely rewarding.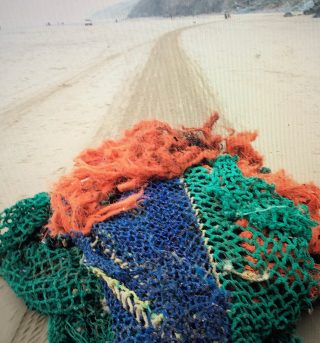 Further info:
Ghostnetbusters ALDFG – is a hub for reporting and recovering industrial scale ghost fishing net that washes ashore. The project is in it's early days but we have so far recovered around 10 tonnes of ghost fishing net since Jan 2019. The name came from a joke "Who ya gonna call… Ghostbusters" and it has stuck.
We recognised there was a gap in coordination for the recovery of shore and reef based ghostnets.  Fathoms Free were doing amazing work diving and recovering nets from the water but land based nets ended up with various pockets of people sometimes duplicating efforts. Through my Plastic Free Community network, we already had amazing collaborators to give the nets to in the form of Ocean Recovery Project and Odyssey Innovation who would recycle the net into kayaks. We were fortunate during 2019 to be kindly donated a marine recycled plastic kayak from Odyssey Innovation to support their paddle for plastic campaign.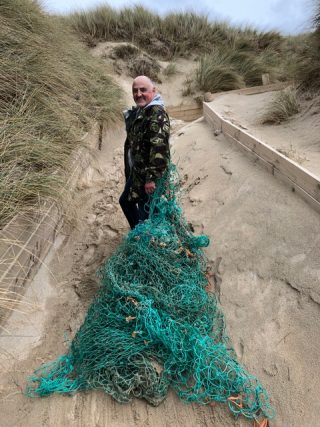 We have created a system with a single contact point for people to report nets and whilst we have recovered many ourselves (our core team cover Trevone to Porthkidney Hayle)…  we are now plotting the entire South West Coastline with teams of volunteer helpers so that we can coordinate wider net recovery and ensure net avoids landfill.
Several groups such as Widemouth Task Force were already doing amazing work so this is a way of us combining our efforts.  We will also be working with the University of Exeter to share our data and plot what is coming ashore and where in order to support further awareness of marine later and to inform solutions.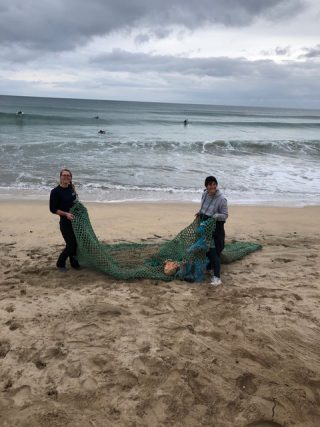 Our core founding team is small consisting of myself plus Julian Larbalestier, Rob Thompson, Craig Ashley, Grace Jones (and Goose and Bryn – two extremely helpful dogs).
Our Facebook Page is HERE
We are grateful fo how positively this project has been received with many parties helping us gain access to various parts of the coastline.  As with most projects nothing is done with our deep collaboration – we have so far worked with and would like to thank – The Environment Agency, Cornwall Wildlife Trust, Your Shore Beach Rangers, Marine Stranding Network, Marine Conservation Society, Natural England, The Shark Trust, British Divers Marine Life Rescue, multiple Marine Conservation Groups, and Plastic Free Communities, Surfers Against Sewage, Ocean Recovery Project, DEFRA, Waterhaul, Fourth Element, Odyssey Marine Adventures and last but definitely not least Rob Thompson at Odyssey Innovation who continues to be a daily inspiration!